Kia Orana, Welcome
Ariana is nestled in two acres of lush tropical gardens.
There is a tranquil and green feeling around the property. We have a sparkling swimming pool and a covered in BBQ area for guests.
We have fruit trees and guests may help themselves to these, when in season. We offer excellent budget accommodation that provides clean, well maintained grounds and facilities.
Accommodation
At Ariana you will have everything you will need for a self catered and relaxing holiday.
Our units have fully equipped kitchens, separate bathrooms with a shower and basin and gas hot water.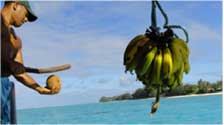 Local Information
Rarotonga, a Pacific island paradise, has developed slowly and carefully to incorporate its breathtaking beauty, stunning sandy swimming beaches, pretty villages, and a people with a passion for life and a vibrant and enduring culture.
Specials
At Ariana we offer special deals for single travelers, group bookings, and wedding packages. Plus check out our last minute monthly special rates.
"Ariana Bungalows is brilliant! The surroundings are beautiful, the atmosphere is warm & inviting & there's plenty of spots to relax in from poolside to hammock."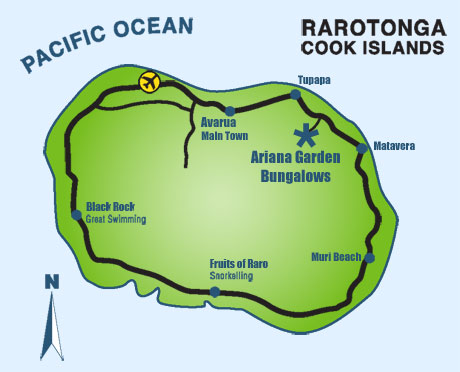 Where we are
Upper Tupapa, Rarotonga
Turn inland at Super Brown 24 hour petrol & grocery store
ARIANA is 150 m on the left.
Telephone: 00-682-20521
Mobile: 00-682-52256
Fax: 00-682-20525
Email: relax@ariana.co.ck