Local Info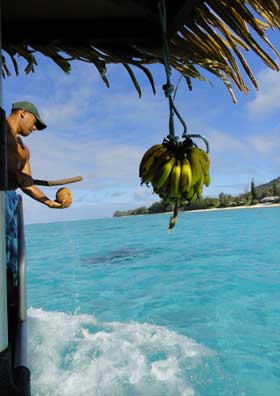 Things to do in Rarotonga
Saturday market
Tramping, walks across the Island
Golf
Cultural shows
Cinema
Sunday church/ singing
Mini putt putt golf
Night clubs
Restaurant and cafes
Laze about, pool time & lagoon days at the beach
Lagoon cruises
Kayaking & canoeing
Scooter rides around the island
Zumba
Gym work outs
Massage & beauty treatments
Shopping
Horse treks
Quad bike adventures
4wd Safari
Sightseeing tours
Scenic flights
Vaka sailings outside the reef
Reef submarine
Aqua sports –kite surfing, paddle boarding, diving, fishing, snorkeling, swimming
Night-life tours
Visit the outer islands
Festivals and events
Te Maeva Nui - August during Constitution Week (cultural dance and music competition)
Vaka Eiva - paddling competition (November)
Turama - Beautiful & spectacular celebration with flowers & candle light, that honour's those who have passed over. (November 1st)
Food
At Ariana we have excellent facilities to self-cater. Most western food is available in the supermarkets. As well there is an abundance of local food.
Local food is also available at the markets, Island nights or cultural shows provided by some of the bigger hotels.
In general, Rarotonga relies heavily on imported foods, primarily from New Zealand. Therefore it can be slightly more expensive because of the shipping costs.
There are 3 to 4 well stocked supermarkets and many local stores. Saturday markets are where the locals purchase their weekly supplies of mainly fruit & vegetables. But if you don't feel like cooking, there are numerous cafes & restaurants which offer a wide selection to suit all budgets.
Imagine pain au chocolat to dim sim to sushi & sashimi to ika mata to succulent curried octopus. It goes on…
Getting around Rarotonga (All costs in NZD)
General
It is 32km around the Island of Rarotonga.
Driving is on the left side of the road.
The maximum speed limit for vehicles is 50kmh and 40kmh without helmets on a scooter/motorbike.
Through the main town and near schools, the speed limit reduces to 30kmh.
MODES OF TRANSPORT TO GET AROUND
Visitors to the Cook Islands will require a Cook Islands driver licence.
To obtain this you will need the following:-
Your vehicle licence from your country of origin;
Your passport;
If you do NOT have a motorbike licence from your own country THEN you must undertake a small practical test.
This is done through the police station in the main town of Avarua.
Approx. $20 for the full test which includes a photo taken at the station to produce a new Cook Islands Licence valid for 1 year.
An excellent bus service runs every hour, both in the "clockwise" and "anti-clockwise" directions, right through until midnight.
There is also a 2am bus service provided for the nightclubs closing hour, on Friday nights/Saturday morning.
There is a bus stop 150m from Ariana. This is situated beside the Super Brown 24 hour Store.
Approximate costs are:
Adults: - $5.00 one way-one ride; $8 return-2 rides; $30 10 ride concession ticket.
Children: - $3-one way; $4-return & $19-concession ticket.
Adult day pass $16
Family pass:- 2 Adults + 3 young children $26
NOTE: - The Buses are NOT scheduled at the airport for the arrival & departures of flights.
Airport transfers are available through your accommodation or transport operators & taxis shown below.
Cars, Scooters (motor bikes/mopeds), Bicycles & Electric bicycles are all available for hire. There are many outlets on the island.
Bicycles-from $10 per day;
Motorbikes-from $20 per day;
Small car –from $38 per day on long term hire or $50 per day.
Most outlets provide cheaper weekly rates and long term deals.
Taxis are available however they are usually more expensive than buses for around the Island & tour operators for airport transfers.
E) Raro Tours airport transfers
This company work in with many of the accommodation outlets with meet & greet on all incoming flights as well as all departing flights.
The standard costs of $20 per person, each way or $35 return, applies at time of writing (September 2013)
F) Ariana Garden Bungalows transfers
A Standard charge of $15 per person each way and half rates for children are available, using our own van.
Weather
The Cook Islands enjoy a warm tropical climate all year round.
You can expect occasional tropical showers at any time of the year.
Summer is from November to March with temperatures from 26°C to 30°C+ with higher humidity & rainfall.
Winter is from June to August with the cooler months producing temperatures of 23°C to 27°C.
Currency
New Zealand money is used in the Cook Islands. The Cook Islands also have their own money in circulation. This is of identical value to the NZ money.
Cook Islands money cannot be changed anywhere else in the world so make sure you spend it, exchange it in the Cooks before departing or accept that you will be taking souvenirs home with you.
ATM MACHINES
There are 2 main banks offering ATM services. They are WESTPAC & ANZ.
Cards accepted are visa, mastercard & bank cards (eftpos cards) with the international cirrus/ Plus/maestro system. Check with your bank.
All transactions are through the ATM and NOT through the banking tellers.
American express & Diners cards appear to be accepted at the more expensive hotels & restaurants but not at ATM'S.
It appears there is a maximum daily cash withdrawal limit of $800 (NZD).
OTHER
Tipping & bargaining are not practised in the Cook Islands.